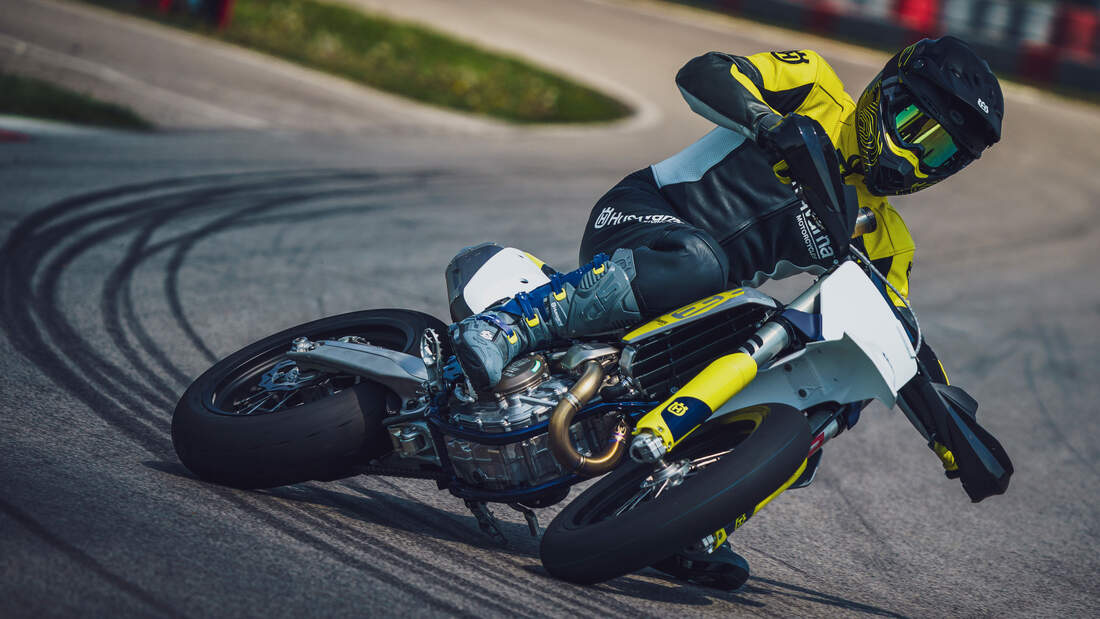 Unfortunately, the boom in the supermoto sector that prevailed a few years ago has abated. Luckily, Husqvarna continues to fly the traverse flag with a new FS 450 Supermoto for 2023.
Riding a Supermoto is something special, even archaic, completely crazy – everyone can agree on that. Take a crosser, transplant street rims into the chassis, adjust the chassis a bit and the toy is ready to explore the limits. At least that's how it used to be when Supermoto spilled over to us as a "new" sport from our Benelux neighbors and the French. Today, of course, modern technology has found its way into drifters, and Husqvarna's fresh competition supermoto for 2023 has a lot to offer as well.
Modern Drifterei
The FS 450 offers pretty much everything you need to romp around from the factory. Starting with a new chrome-molybdenum steel frame and an aluminum subframe. A 450 cc single cylinder with a single overhead camshaft (SOHC) hangs in the lightweight tubular frame. Husqvarna has not yet specified a performance for the 2023 engine, but it should be in the same range as the previous model, i.e. 63 hp. And as is well known, that's enough to do wild unicycle acrobatics. The revised engine now has different driving modes, which can be changed using new switch units. The styluses are placed on ProTaper handlebars. In addition, the 450 can be happily wheeled to the limiter without any interruption in traction, because a quickshifter is also on board. The gearbox comes from Pankl and is suitably geared for short supermoto routes.
Safe crossing
If the rear wheel gets crooked than planned when firing out, a traction control catches rough slides. A launch control ensures the perfect start. Both electronic helpers can be activated – or deactivated – via a newly designed switch. The competition huskies are kept on course by a WP XACT fork with a diameter of 48 millimeters, at the rear an XTAC shock absorber, also from WP, keeps the FS 450 on course. Incidentally, adjustments to the shock absorber can be made without tools! As the icing on the cake, the Supermoto is equipped with Alpina spoke sweepers. The competitive claim is then underlined by fat Brembo calipers and an anti-hopping clutch from Suter. The FS 450 is available in grey, white and yellow decor and is available from 11,999 euros.
Conclusion
If you're serious and just can't get enough of drifting and wheeling, this full-featured supermoto from the Husqvarna factory is for you.
#Husqvarna #Swedish #competition #obstructionist #Austria

Source