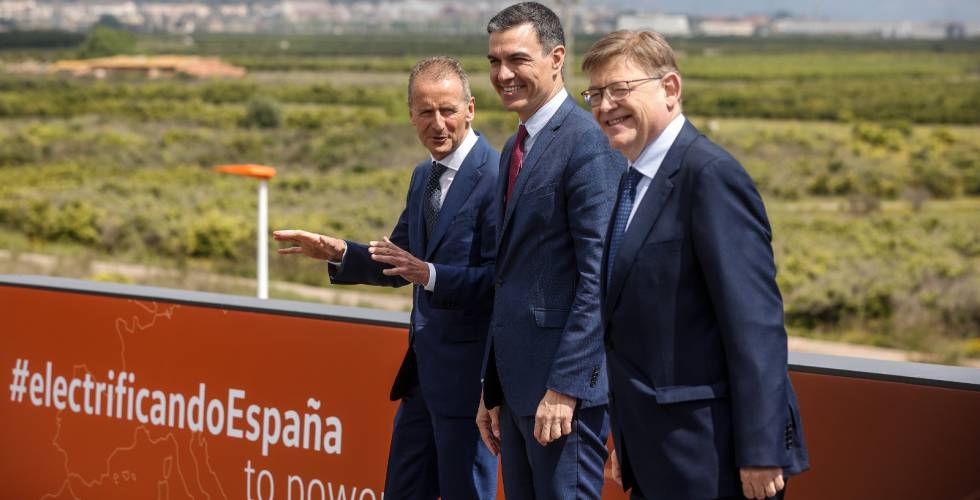 It has been a dream first half of the year for the Valencian industry. Between March and June, the community received two big pieces of news: on the one hand, an investment of 3,000 million euros by the Volkswagen group to build a battery plant in Sagunto, and, on the other, the assignment of two electric models to the Ford plant in Almussafes, which ensure the future of the factory for the next decade.
Thus, the valencian community (where the automotive cluster employs about 25,000 people) becomes the only autonomy with the entire value chain of the electric vehicle, since there is no other region in Spain that is going to produce electric cars and batteries for them, at least for now. The only region in Spain, apart from Valencia, that has secured a battery factory is Extremadura, with the gigafactory to be built by the Chinese Envision and Acciona Energía in the town of Navalmoral de la Mata. However, this community does not have any car plants.
Sagunto stayed with the Volkswagen gigafactory after winning precisely the candidacy of Extremadura, Aragón (where it manufactures Stellantis vehicles, which for the moment will not assemble batteries in our country) and Catalonia, which has the Seat plant.
Sagunto batteries will not go to Almussafes
Although Ford and Volkswagen have signed an alliance for the development of electric vehicles, from the German group they have ruled out that the Sagunto batteries can supply the Almussafes factory. Said batteries will be used exclusively for the production of its Spanish plants in Martorell (Barcelona), where the group will manufacture electric compact cars of the Volkswagen, Skoda and Cupra brands; and Landaben (Navarra), in which the German consortium will make electric SUVs.
"We do not exclude manufacturers. But our first wave of investment, which includes six gigafactories in Europe, will be used to supply ourselves, our 20% market share in Europe, a percentage that we would like to maintain also in the world of electric vehicle, and that we even already have", had assured the world CEO of Volkswagen, Herbert Diessin an interview granted to this medium.
#Valencia #center #Spanish #electromobility #batteries #Ford #cars

Source