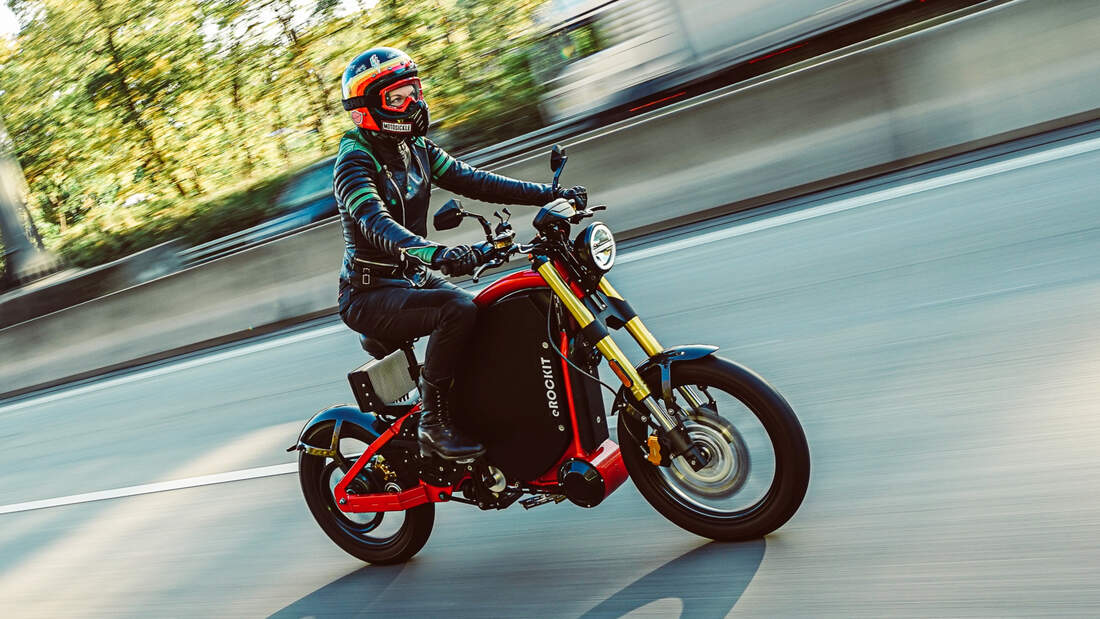 advertisement
The world's fastest bicycle or pedal-driven motorbike? eROCKIT: The power rocket with investment opportunities

Here comes the ultimate upgrade of a bicycle, the first pedal-controlled electric motorcycle – but very different than you think.
The eROCKIT is the next step in the evolution of eBikes. Perfectly tuned technology to bring the full power that the 16 kW electric motor can provide onto the road. You are active and on the move without exhausting yourself. With incredible thrust, the eROCKIT brings the performance and agility you've always been looking for onto the road. We motorcyclists live for the feeling when the landscape flies by and the wind caresses our skin. eROCKIT gives you this feeling in a whole new dimension.
You already know the pedaling movement that you apply instead of turning the throttle grip from your childhood days. Totally intuitive. No clutching, no shifting. Gliding through nature with enormous acceleration and 90 km/h inspires body and soul.
No, it is not a provocation to drive the eROCKIT. If you are ready to surpass yourself, then you will love it! There is no other way than to be excited about this bike. Especially different from anything you've ridden before. We invite you: Visit the factory and look forward to a trip with the eROCKIT. Sign up here!
Since eROCKIT is already causing a stir internationally and the demand is very high, it is high time to position the company for growth and the future. eROCKIT AG offers participation opportunities in the form of shares – even before a planned IPO.
There are already over 100 shareholders on board. Among them football star Max Kruse (VfL Wolfsburg / previously Union Berlin and Werder Bremen), media entrepreneur Aaron Troschke and the medium-sized investment company Berlin-Brandenburg. With Richard Gaul, the former head of communications at BMW has a seat on the supervisory board. Dipl.-Ing. Markus Leder responsible. He has been Chief Operating Officer at eROCKIT since mid-2021 and was previously Head of Development at Pininfarina.
With the eROCKIT share you secure a real stake in this company.
Invest in engineering "Made in Germany" and find out now about this highly interesting investment in the field of electromobility. All information at: ag.erockit.de
Note: This offer is based on the permitted securities information sheet (WIB) of December 6, 2021, which can be accessed on the website ag.erockit.de. The permit does not constitute an endorsement and it is recommended that prospective investors read the WIB before making any investment decision in order to fully understand the potential risks and rewards of deciding to invest in the Securities. You are about to purchase a product that is not simple and can be difficult to understand.
#fastest #bicycle #world #motorcycle #pedal #drive #eROCKIT #power #rocket #investment #opportunities

Source