Fill homemade French toast with some delicious custard it doesn't take long, even considering if the preparation of the custard is included, and the result is a very traditional dessert with an original touch. Torrijas, also known as torrejas or French toast, are an ingenious and tasty way to recycle bread when it is several days old; and the ingredients that accompany both the filling and the bread of the torrijas are of daily use and present in all kitchens. Surely you have prepared them at home or remember having eaten them more than once, but not with the delicious filling that we propose below.
The first reference to torrijas is from the first century of our era, and it is found in Apicio's De re coquinaria, where he mentions a bread that is soaked in milk, but not in egg. It is likely that it was the Romans who spread this way of preparing bread throughout the Europe that was under their influence.
Ingredients:
1 loaf of bread from the previous day 1 ½ liters of milk 5 eggs 200 grams of sugar 40 grams of cornstarch 1 teaspoon of vanilla essence 125 ml of sunflower oil Cinnamon powder
How to prepare and fill homemade French toast with delicious custard:
Pour ¾ liter of milk into a saucepan over medium heat and add the vanilla and 80 grams of sugar.
Take the yolks of three eggs and put them in a bowl with ¼ liter of milk and cornstarch. Beat until it is no lumps. Boiling the milk in the saucepan lower the flame and add the mixture with eggs and cornstarch. Raise the flame and stir with a wooden spoon until thick. If it is too dense you can add a little more milk.
Heat the remaining half liter of milk and turn off when it is about to boil. cut loaf of bread sliced ​​not too thick and put them to soak in the milk until they are well soaked.
Beat the eggs and leave in a deep plate.
Drain the milk from the bread, pass it through the egg, and fry in a very hot pan, back and forth. Remove the loaves from the pan, add a spoonful of custard on topcover with another fried slice and return to the pan with the hot oil. Watch and turn to fry on both sides.
Take out and drain the oilplace on a clean plate and sprinkle with cinnamon.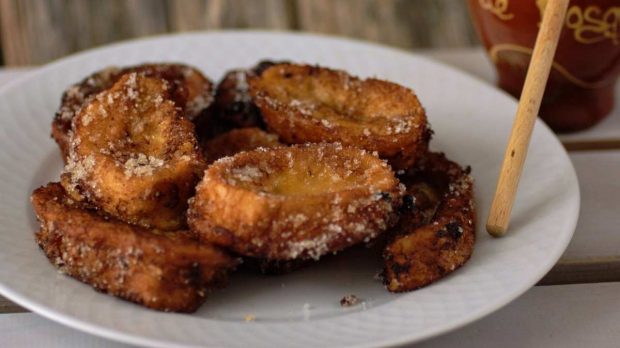 Learn how to fill homemade French toast with delicious custard and you will have a delicious and easy-to-make dessert that family and visitors will love. You can simplify the preparation of the custard using the one that comes in powder, but it would not be so homemade.
#fill #homemade #French #toast #delicious #custard

Source