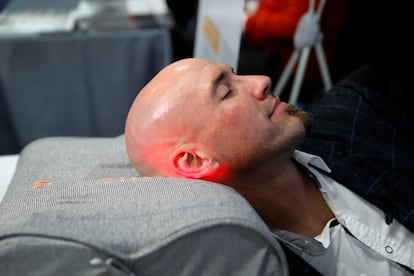 A user tests a pillow that automatically modifies the position of the head to prevent snoring and that was presented at the technology fair in Las Vegas two years ago.STEVE MARCUS (Reuters)
To know if you can stop snoring, the first thing is to understand why you snore. And it is also important to consider whether or not snoring is a disease. Snoring is the noise that occurs when breathing when we fall asleep because the airway relaxes. The airway is everything that makes up the respiratory system except the lungs. When we fall asleep, it relaxes, but it has to maintain a sufficient tone that allows us to continue breathing. When the resistance in that airway increases a little, because it relaxes too much or because it is subjected to excessive loads, vibrations are produced that are what cause that sound that is snoring.
When there is only that excess noise with the passage of air, but the passage of air is adequate, we call it simple snoring and this is not a disease. Someone making noise while breathing while asleep, but keeping their breathing normal, can be an "aesthetic" problem, that is, it can bother the people sleeping next to them, but it is not pathological.
More information
But snoring can also be the first phase of a wide spectrum that reaches its most serious consequence, which is obstructive sleep apnea. This airway, which is a flexible tube, can only vibrate and produce the noise we are talking about, but it can also happen that the airway closes more and more and even closes completely. And sleep apnea is indeed a disease that has relevant consequences and that must be treated.
Do many people snore? The answer is yes. 40% of men over the age of 40 snore, although only 10% of men of that age have obstructive sleep apnea.
There are several reasons why snoring occurs, many factors influence. One of the fundamentals is being overweight. When the airway, which is a muscle, is pressured by a greater load of fat around it, it tends to become obstructed. And for this reason, in addition, snoring is more frequent in men because they accumulate more fat in the neck.
The second factor that influences is age because as we get older, the airway loses tone and becomes more easily obstructed. That is why, over the years, we are snoring more. It is also affected by dryness or inflammation. If we have tonsillitis or pharyngitis, we snore more.
And position matters a lot. If we sleep on our back, we snore more and if we lie on our side, as the airway is more protected, better supports loads and is more open, we snore less. And then some external things: for example, alcohol weakens the airway and makes us snore more or some drugs that relax the airway. Also some alterations of the face such as the nasal septum if it obstructs the nose or a very small chin that makes the route have less space.
Once we know why snoring occurs, we need to determine how to resolve it. But we must be aware that simple snoring is only treated because it is annoying, not because it is a disease.
The first effective measure against snoring when overweight is to lose weight. Patients report that they stop snoring or snore less when they lose weight. We can also put a humidifier in the room, but it's not going to have a big impact, it can improve it, to some extent, but it's not going to eliminate it.
If there is a blockage in the nose or excessively large polyps, surgery may improve if the snoring only occurs for that reason. But sometimes, and this has to be assessed by an ENT specialist, this surgery only improves snoring, it does not eliminate it. It is also effective not to drink alcohol. And there is the question of the position that is very important. If the person is able to spend more time on their side, the snoring is reduced. There are treatments to achieve this. Before, a ball was used on the back, but now there are more modern and efficient devices that detect when the person is face up, emit a vibration and the person turns on their side. It's like behavioral therapy. These devices are also used in the treatment of obstructive sleep apnea because some of them are positional and occur only when the patient is face up.
The following treatments are already for sleep apnea and they always remove the snoring because when a patient stops snoring, they stop having apneas. We have the mandibular advancement devices. In a person who has a simple snoring that is very annoying, the use of one of these devices can be considered. That they should always be performed by expert orthodontists and that they manage to advance the jaw and leave a little more space for the pathway. The next step is CPAP, but this device is for apnea patients, its use is not justified to stop simple snoring alone. A CPAP is a machine that ends in a mask that is placed on the patient's nose and mouth and that puts pressure on the airway to keep it open throughout the night. By keeping the pathway open, the patient naturally stops snoring. But this is a treatment for sleep apnea, in no case would a sleep specialist prescribe a CPAP for simple snoring.
Olga Mediano is a specialist in pulmonology, researching sleep at the University Hospital of Guadalajara.
Question sent via email by Paula García
Coordination and writing: Victoria Toro
We respond is a weekly scientific consultation, sponsored by the Dr. Antoni Esteve Foundation and the L'Oréal-Unesco 'For Women in Science' program, which answers readers' questions about science and technology. They are scientists and technologists, members of AMIT (Association of Women Researchers and Technologists), who answer these questions. Send your questions to us at [email protected] or via Twitter #nosotrasrespondemos.
The advice in this office is of a general nature and is not a substitute for medical advice. If you have questions about your specific problem, ask your doctor or pharmacist.
You can follow MATERIA on Facebook, Twitter and Instagram, or sign up here to receive our weekly newsletter.

#stop #snoring

Source