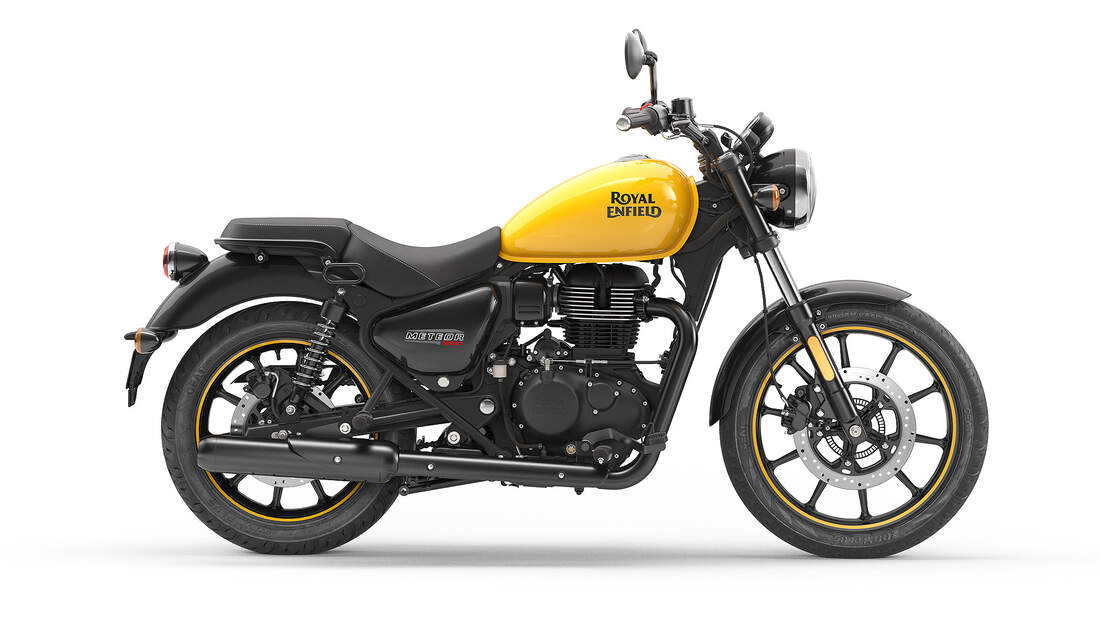 Royal Enfield has patented two new model names: Hunter and Sherpa. The Royal Enfield Hunter 350 is scheduled to arrive in August 2022 and will be the new entry-level model.
Dina Dervisevic,
Uli Baumann
20.06.2022
The new Royal Enfield Hunter 350 takes on the role of the entry-level model in the Enfield range. It is based on the same platform as the Classic 350 and the Meteor 350 (see the yellow bike in the picture), which are also available in Germany. In India, the Hunter should be placed below the Bullet 350 and cost the equivalent of around 1,700 euros. The basic version of the Royal Enfield Hunter 350 bears the abbreviation J1C2. It should roll on spoked wheels and with minimal equipment, while being very light and low – maximum beginner-friendly. The Hunter with the abbreviation J1C1 comes with alloy wheels and additional equipment.
The single-cylinder with a displacement of 349 cm³ provides 20 hp at 6,100 rpm and 27 Nm at 4,000 rpm. The Meteor 350 available in Germany costs from 4,190 euros.
Enduro names "Sherpa"?
The current enduro lineup at Royal Enfield consists exclusively of the Himalayan. It is powered by a 411 cm³ single-cylinder, which in our case delivers 25 hp and 32 Nm. Since Royal Enfield has not only patented the name "Hunter" but also the name "Sherpa", it stands to reason that the Enduro selection will increase. With a 250cc single, the Sherpa could serve as the new basic enduro, especially for the Asian market.
Conclusion
For the equivalent of 1,700 euros, the Hunter 350 will mark Enfield's new entry. In Germany, the Meteor and Classic are among the inexpensive entry-level models with not quite ample performance and equipment, which is why we assume that the Hunter is not intended for the European or at least for the German market.
#Royal #Enfield #Hunter #entrylevel #model #August

Source