Driving bans for environmental reasons for cars are already a reality in many cities. But motorcycles are also only allowed to drive in some urban zones to a limited extent. London expands the ban zone again.
The latest push for city driving bans, which will also affect scooter and motorbike riders, comes from Spain. Since January, older vehicles with internal combustion engines have been banned from driving between 7 a.m. and 8 p.m. on weekdays in Barcelona. This also applies to mopeds and motorbikes built in 2002 or earlier and to cars (from 20 years of age, diesel from 14 years of age). For buses and trucks, the ban is expected to come in 2021. This is intended to improve the air quality in the inner city area. The no-drive zone covers an area of ​​95 square kilometers inside Barcelona's ring roads. In order to be able to monitor compliance, the local authorities issue stickers for vehicles that are still allowed to drive. Similar bans have been in place in major French cities since 2016.
The Netherlands are planning driving bans
According to the City of Amsterdam's "Clean Air Action Plan", the Dutch capital wants to ban all petrol and diesel vehicles from 2030 if possible, and this also applies to motorcycles and scooters. As early as 2025, the A10 ring road will be subject to a driving ban on taxis, buses, vans and scooters with combustion engines, and five years later this will also apply to private cars and motorcycles.
London expands again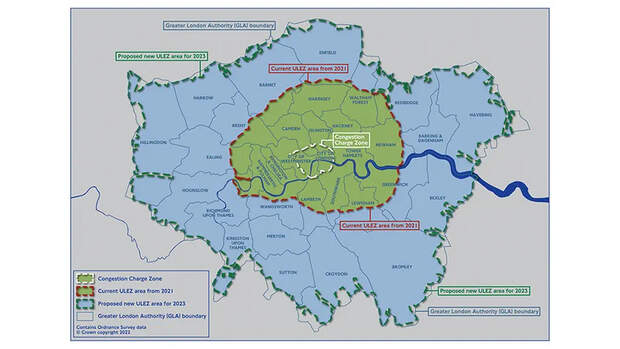 Transport for London
From 2023, almost the entire administrative district of London will be a payment zone for old motorcycles.
The British capital London only significantly expanded its Ultra Low Emission Zone (ULEZ) on April 8, 2019, which only allows motorcycles that meet at least Euro 3 to enter. The British have already announced a further significant expansion of the ULEZ for October 25, 2021 and are specifically planning to expand the ULEZ by a factor of 18: the current mayor wants the City of London and the general city center to be affected by the driving restrictions now extend the zone to most suburbs and almost all feeders into the city, including some freeways. The next stage of the ULEZ is to follow in 2023 and will include not only the city of London but the entire London borough. From the original 21 km² in 2019, the ULEZ will then also grow by 1,569 km². If you still want to drive into the zone with your vehicle, you can buy a day ticket for £12.50. Anyone caught without one will have to pay a fine of £1,000.
Driving bans in Paris
From July 4, 2019, only motorcycles that were registered after June 30, 2004 and should therefore comply with Euro 2 will be allowed to enter the French metropolis of Paris from Monday to Friday (8 a.m. to 8 p.m.). A further tightening is planned for July 1, 2022, which will then also apply to vehicles registered after January 1, 2007, i.e. Euro 3 motorcycles and scooters. In February 2022, however, it was announced that this driving ban would be postponed by six months. The following reasons are given for this: Paris is still waiting for two applications that have yet to be approved or rejected by the state. For one, Paris is applying to become a "test ground" for an experiment that would provide an interest-free loan for those households who would need to switch to a modern two-wheeler. On the other hand, there is an application for radar devices that would also be able to recognize valid and invalid stickers on motorcycles.
With this postponement, the further schedule should also be postponed, which stipulated that from 2024 only motorcycles with Euro 4 that were registered after December 31, 2016 would be allowed. And from 2030, only vehicles with electric or fuel cell drives will be allowed in Paris. In Strasbourg, there is a situational driving ban for all combustion engines. In general, a Crit'Air badge is required in France to enter the environmental zones.
Driving bans in Rome
In Italy, two-stroke engines are now completely denied entry in around 200 cities. The capital Rome has a tiered model that only allows Euro 2 or Euro 3 two-wheelers to enter, depending on the area and the environmental impact.
opinion poll
Is out of the question for me.
The future of two-wheelers for urban traffic.
There is no way around the electric motorcycle.
read more
#Driving #bans #motorcycles #Europe #Euro #London

Source