KTM China partner CF Moto has unveiled its first all-electric motorcycle. The 300GT-E is a police motorcycle and has a very modern design.
Uli Baumann, Jens Kratschmar (co-author)
20.06.2022
The Chinese motorcycle manufacturer CF Moto has a clear commitment to electric motorcycles. Now the Chinese have presented their first electric bike. The CF Moto 300GT-E is dressed up as a police motorcycle, but it also marks the first step towards an all-electric sub-brand from the Chinese.
Modern Construction
In the patent drawings of the 300 GT-E, CF Moto shows a very modern design. The large battery block acts as a supporting element in the middle. Steering head and rear frame are screwed together on the housing without a load-bearing connection. The aluminum swingarm itself and the directly linked spring strut are also attached to the frame of the power storage unit.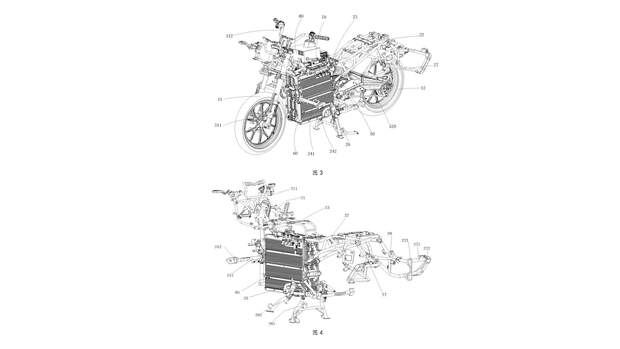 CF Moto
The battery is bolted to the chassis for load-bearing capacity, and the swing arm and spring strut are also mounted in the battery frame.
150 kilometers everyday range
With its electric drive, the CF Moto is designed to perform its official service in Chinese megacities with zero emissions. The electric drive consists of a lithium-ion battery and an electric motor that drives the rear wheel via a toothed belt. The electric motor has an output of 18 kW and is intended to make the official vehicle reach speeds of up to 120 km/h. The battery, which is equipped with a quick-charging function, should enable an everyday range of 150 kilometers. The electronics of the battery are water-cooled. The special police equipment includes a communication system, satellite navigation, an online connection for database queries and a keyless system for the ignition and side cases. Furthermore, the CF Moto relies on LED lighting, a full fairing with a height-adjustable window, 17-inch aluminum wheels, ABS, a USD fork and a rear central spring strut. At the end of November 2020, the CF Moto 300GT-E should start its police service in selected major cities in China.
opinion poll
Is out of the question for me.
The future of two-wheelers for urban traffic.
There is no way around the electric motorcycle.
read more
Conclusion
CF Moto goes electric. With the 300 GT-E, the motorcycle manufacturers are showing an electric motorcycle for use by the police. The construction is very modern.
#Moto #300GTE #Chinas #cops #drive #electric

Source